"Genealogy in St. Louis" and George WALKER Bush
---
The following three articles were written by Roger Hughes © 2015 (All rights reserved)

Last Update: November 7, 2015
To return to the "Genealogy in St. Louis" Web Site click here.

Comments from Dave Lossos: I was quite impressed when I first read Mr Hughes' articles concerning Presidents Bush and their close ancestral ties to St. Louis and vicinity. I was elated that he allows his work to be published on this website, a perfect fit for the historical and genealogical nature of these "Genealogy in St. Louis" websites. Mr. Hughes is working on further research on the Walker line, and also the St. Louis Lamberts with links to the Walker, Mellon, Busch trees. Additional web content on the subject is noted at the bottom of this page (the latest one added 11/7/2015). From my own "Genealogy in St. Louis" database I created a PDF file that shows much of the intertwined family lines of St. Louis's Bush connections.


---

Twists, turns, ties: David Davis & George Bush

By Roger Hughes

(Initially published in the Pantagraph daily newspaper in Bloomington, Illinois (Page C3, Viewpoint section) on Sunday, November 7, 2004)


George Walker Bush and his father George Herbert Walker Bush probably can thank Bloomington's Judge David Davis for their presidencies.

Without the judge's intervention about 150 years ago -- especially in 1854 and 1857 -- the Walker family might never have been known to history. And the Walkers might never have been known to the Bush family.

"I shall send David Walker to Beloit, to the English school to stay there a year," Davis wrote to his son George Perrin Davis on Aug. 13, 1854. "I hope he will improve. He needs different influences from what he has received and needs to be among good people. The school at Beloit (Wisconsin) commences the 6th of September."

The judge and David Davis Walker were first-cousins. Walker was a direct-line ancestor of the Presidents Bush.

Walker, 14 in 1854, lived on a 64-acre farm at Blooming Grove, about four miles southeast of Bloomington. George E. and Harriet (Mercer) Walker, his parents, were the uncle and aunt of the judge. They had pioneered to McLean County from Cecil County, Md., in 1838, two years after Davis arrived in Bloomington from Pekin.

Further evidence that the judge, 25 years older than his young cousin, had been concerned for awhile about David's future is found in a March 17, 1854, letter to Davis from A.L. Chapin:

"In respect to the boy David, I think we can make arrangements to receive him in our English department at the beginning of the next year, to his advantage. ...I think he cannot be rougher or more unpromising than much of the material we have to work on is in the outset. The general influences which will surround him here will be refining."

Chapin was president of Beloit College and of the Beloit Preparatory Department and Academy, a college prep school. He had been a brother-in-law of the late Wells Colton, an early law partner of Davis. The judge was a supporter of and financial adviser to Chapin and the college, which from its inception has been called the "Yale of the Midwest."

Walker attended the Beloit prep school for two years. Evidence of his progress is seen in excerpts from some of the correspondence found in the David Davis Papers archived in the Illinois State Historical Library of the Lincoln Library and Museum at Springfield. Examples include:


-- Oct. 16, 1854, letter from Davis to his son George: "David Walker ... is at Beloit. He is very homesick I am told. I guess though he will get over that."
-- Nov. 27, 1854, letter from Chapin to Davis: "I will see David Walker & talk to him about going home on the Christmas vacation. I have ordered a good plain coat for him to cost six dollars. I could find nothing ready made for him that would fit."
-- Feb. 21, 1855, letter from Chapin to Davis: "David Walker is doing very well in every respect. Seems to be quite popular among the boys & begins to hold up his head like a man. ..."
-- April 2, 1855, letter from Sarah Woodruff Davis, the judge's wife, to her son George: "David Walker came home on Friday of last week, will return (to Beloit) in two weeks. He has improved, and Mr. Chapin writes of him in most flattering terms. Urges his going through college with much earnestness. I wish your father to consent, as I think talents should be improved to the utmost."

But the boy dissented and did not attend college. After two years (1854-56) at the prep school, he returned to the family farm at Blooming Grove.

Then, a few months later, he left the farm and arrived in St. Louis on March 4, 1857. There, at age 17, he "took a position with the wholesale firm of Crow, McCreery & Co.," according to various St. Louis histories. He started as an office boy. Eight years later, at age 25, he was a junior partner.

Here, too, there is strong evidence that without the judge's intervention and assistance the Walkers might never have been a family that has produced two presidents.

Crow, McCreery & Co. was established by Wayman Crow, who entered the wholesale dry goods business at St. Louis in 1835.

Crow and Davis were longtime acquaintances. They had been mutually involved in land transactions at McLean County since the late-1830s. Also, they had formed a partnership in 1853, along with Joseph Stuart of New York City, to invest in land in Illinois, Iowa and Wisconsin.

While written evidence has not yet been found, it is circumstantially clear that Davis most likely interceded on behalf of his first-cousin and recommended Walker to his friend Crow for employment.

After 1857, Circuit Judge Davis went on with his public life. He was involved in the nurturing of the new Republican Party and the nomination and election (1860) of Abraham Lincoln to the presidency. He was appointed by Lincoln to the U.S. Supreme Court, serving from 1862 to 1877, and was executor of the slain president's estate. Also, Davis was a potential presidential candidate in 1872 and a U.S. senator from Illinois from 1877 to 1883. He died June 26, 1886.

In a June 26, 1886, letter to the judge's son George Perrin Davis at Bloomington, David Davis Walker wrote:

"Your telegram informing me of your father's death just to hand and while not wholly unexpected, yet did not look for it so soon. You have my sincerest sympathy in your irreplaceable loss. I am very glad I got to see him while yet living. ...No man in the United States will be so unanimously mourned as your father. His life was made up of good deeds, and let this fact console you, he has gone where he will be rewarded for each and all of them. Try to follow in his footsteps & you will be happy in so doing. My wife & family all sympathize with you & yours in your deep grief. ..."

By the time of Davis' death, Blooming Grove-native Walker was well along in his astonishingly successful career in the wholesale dry goods business at St. Louis. In 1886, he was operating his own firm, Ely & Walker Dry Goods Co., and living with his young family at one of the city's most exclusive addresses.

According to an 1899 St. Louis history, Walker's company became "the leading wholesaler of dry goods west of the Mississippi. Owners of dry goods stores traveled to the Washington Avenue warehouse to see samples of fabrics, shoes, bedding. ...From the ... warehouse they supplied their corner stores and small stores throughout the Midwest and West. ...

"The record of this house has been one of constant progression and it has become one of the most famous mercantile institutions of the West."

George Herbert Walker, one of David's sons, left Ely & Walker Dry Goods Co. at the end of the 19th century to found G.H. Walker Investment Co. "Bert" Walker, like his father, struck out on his own and gradually achieved success and fame as a world-class financier.

His daughter Dorothy D. Walker married Prescott Sheldon Bush in 1921, three years after the death of David Davis Walker.

Former President George Herbert Walker Bush is a son of Dorothy and Prescott.

President George Walker Bush and Florida Gov. Jeb Bush are grandsons of Dorothy and Prescott. George Herbert Walker III, of St. Louis, a cousin, is U.S. ambassador to Hungary. (Note: He stepped down as ambassador in 2006)

David Davis -- and Lincoln -- were among those shaping the Republican Party in its formative years. The Bush father and son are current-day standard-bearers of the same political party that has been "in the family" since the 1850s.

Without the mid-1800s help, advice and intercession of his Bloomington first-cousin, it is worth pondering what might have happened to David Davis Walker and his descendants.

It also is appropriate to consider whether there ever would have been Walker family success, a timely Walker-Bush marriage and the Bush presidencies.


---

Legacy - Records show the Walker branch of President George W. Bush's family, which settled in central Illinois, included slave owners
(Initially published in the Illinois Times newspaper, Springfield, Illinois 2007)

By Roger Hughes (APRIL 5, 2007)

Add President George Walker Bush to the list of top-tier U.S. politicians whose ancestors include slaveholders.

U.S. Census records for 1790 to 1830 testify to the slaveholding past of some early Walker-family members. The many available Bush-Walker genealogies lead to the same people and places that are found in the U.S. Census.

The slave-ownership issue has received national attention in recent weeks in the developing 2008 presidential race.

Census findings compiled by a genealogy researcher show slaveholders in the family trees of Illinois Sen. Barack Obama, a Democrat; former North Carolina Sen. John Edwards, a Democrat; and Arizona Sen. John McCain, a Republican.

The census also documents slaveholding ancestry in the family of former U.S. Sen. and Vice President Al Gore of Tennessee. He was the Democrats' presidential nominee in 2000.

Those census records were gathered by William Addams Reitwiesner, who works at the Library of Congress and is a spare-time genealogist. The records are retrievable at his Internet site, www.wargs.com.

In a related development, civil-rights activist Al Sharpton of New York recently was told by a team of professional genealogists that his great-grand-father was likely once owned by ancestors of the late Sen. Strom Thurmond, R-S.C. Sharpton was a 2004 Democratic candidate for president. Bush's long-ago Walker-and-related forebears, along with some of their cousins and in-laws, owned plantations and farms at Sassafras Neck in Cecil County, Md. This is a narrow strip of land between the Bohemia and Sassafras rivers, which flow into Chesapeake Bay.

The pages of the nation's earliest Census enumerations offer this testimony, which has been independently compiled:


• Robert and Ann (Bolton) Mercer owned slaves.
They were fifth great-grandparents of the president and great-grandparents of Bloomington's Judge David Davis, who helped put Abraham Lincoln in the White House.
In 1790, there was an Ann Mercer in Cecil County at the West Sassafras Hundred election district. She headed a household of one free white male age 16 or over, one free white male under 16, two free white females, and five slaves. Mercer had been widowed for about two decades.

• William and Sarah Davis owned slaves.
They, too, were fifth great-grandparents of the president and great-grandparents of David Davis.
In 1790 at West Sassafras Hundred, a William Davis household had three free white males ages 16 and over, one free white male under 16, one free white female, and seven slaves.
Some family-history researchers suggest that William and Sarah are misidentfied by various genealogists as ancestors of two presidents and the judge and therefore that it was not their daughter Rebecca (born in 1772) who married a John Mercer.
Instead, they list a John and Elizabeth (Stockton) Davis as the appropriate fifth great-grandparents of Bush. They, too, had a daughter Rebecca (born in 1785).
However, a now-deceased direct descendant of Judge Davis and his son George Perrin Davis concluded that the William and Sarah ancestry was considerably more plausible. Alice Davis Cates wrote: "There are different versions of Rebecca Davis' parentage. One is that she is the daughter of John Davis and Elizabeth Stockton, but that Rebecca was born in 1785 and was too young to have had her first child (William Davis Mercer) in 1794. "I think Rebecca's father was William Davis because he had a daughter Rebecca of an appropriate age as inferred by his will and because John Mercer and Rebecca named their first child William Davis Mercer. Also, their plantations adjoined, both being on Back Creek of Sassafras River."

• Rebecca (Mercer) Veazey owned slaves.
Veazey was the widowed daughter of Robert and Ann Mercer. She also was a fifth great-aunt of the president and a great-aunt of Davis. In 1790 at West Sassafras Hundred, a Rebecca Veazey household had one free white male age 16 or over, two free white males under 16, one free white female, and 10 slaves.

• John and Rebecca (Davis) Mercer owned slaves.
They were fourth great-grandparents of the president and grandparents of Davis.
There were six slaves on Mercer land at Bohemia Hundred in Cecil County in 1790, 15 in 1800, and 18 in 1810.
Harriet and Ann Mercer were two of their children.
The Mercers and Davises descended from prominent families that began receiving land grants from the British Crown as early as the 1600s. There were kinfolk all across the Delmarva Peninsula of Maryland, Delaware, and Virginia.

• In Prince George's County, Md., Naylor and Jane (Lyon) Davis owned slaves.
Their son Dr. David Davis and his wife, Ann (Mercer) Davis, would be the parents of Judge Davis, who was born in 1815. Ann was a fourth great-aunt of Bush.
A 1790 census entry at Prince George's County for a Naylor Davis documented a household of two free white males ages 16 and over, one free white male under 16, six free white females, and 21 slaves.

• James and Rosetta (Walker) Scanlan owned slaves.
At Cecil County in 1810, their property holdings included 10 slaves.
Genealogies, plus various archival and family sources, affirm that Rose, born in England, was the sister of a George E. Walker, born in Burlington, N.J. She also was a fourth great-aunt of the president. Scanlan was George's court-appointed guardian, starting in 1811 after the deaths of the 13-year-old's mother and stepfather.
Dr. Davis, husband of Ann, also expected to be involved in the boy's upbringing at Cecil County, but he died in 1814, shortly before the birth of his son David. George married Harriet Mercer in 1821.

• George E. and Harriet (Mercer) Walker owned slaves.
They were great-great-great-grandparents of President Bush and the uncle and aunt of David Davis.


With the 1820 death of her father John Mercer, Harriet inherited a 321-acre farm in Cecil County called Chew's Resurvey. An 1830 census entry at Sassafras Neck for George E. Walker and his family included one male slave in the 24-to-36 age category and one female slave in the 10-to-24 age range. It is not known whether there were more than two slaves on this land before or after 1830.

The Walkers fell on hard times in Cecil County in the 1830s and lost their land. In the fall of 1838, the family pioneered by boat and wagon to rural McLean County in Illinois.

They settled on a 64-acre farm at Blooming Grove. McLean County property records show that this land had been purchased about a year earlier by George Biddle, a friend and possibly a cousin by marriage of David Davis.

The farm was about 4 miles southeast of Bloomington, where nephew David Davis had been practicing law since 1836 and where he would bring his young bride Sarah Woodruff Walker (unrelated to his Uncle George E. Walker) in late 1838.

David Davis Walker was born in McLean County in 1840, the eighth of 10 children whom Harriet would bear. He would be a great-grand-father of President George Herbert Walker Bush and a great-great-grandfather of President George Walker Bush.

A few decades earlier at Cecil County, Harriet and Ann Mercer were growing up on The Rounds plantation, owned by their father, John Mercer. Harriet was born June 30, 1802, during a tragic year in the Mercer family. Her brothers John, 4, and James, 2, died when she was just a week old. Her mother, Rebecca, died in late November. Dysentery is believed to have been a contributing cause in all three deaths.

John Mercer was left with three young children — William Davis, 8; Ann, 6; and Harriet, 5 months — but he had the help of numerous kinfolk. Also, there were slaves to help run Mercer's household and tend his land.

In David Davis: Lincoln's Manager, a 1960 biography, author Willard King wrote: "As early as 1790, John Mercer had six slaves. In 1810, he had eighteen, and . . . he must have had many more by 1820. A few years later, in the Deep South, each thousand acres of plantation had about a hundred slaves, and John Mercer owned more than 1,600 acres." Mercer had three plantations at Sassafras Neck, including The Rounds.

The manor house at The Rounds has been variously described by historians, including King: "Georgian in architecture, as it faces the hills, Queen Anne, on its river side, it overlooks the broad Bohemia from a high slope, as Mount Vernon looks over the Potomac. Tradition in the Davis family claims that it was built in 1740 with bricks brought from England. Inside, the house is spacious and well proportioned. . . . "

Like her future nephew David Davis, born several years later at The Rounds, there probably were many playmates for Harriet. She had her siblings and many cousins. The playmates also perhaps included, as King wrote of the David Davis childhood experience, "the Negro children who lived in the slave cabins on the plantation."

The cabins and other structures were near the kitchen of the manor house, King explained. There was, for example, a large ice house. "Fifteen or twenty loads of ice, cut from nearby ponds, were hauled there by oxen each winter and packed with straw. A woodhouse was kept filled from the neighboring hills. A smokehouse, a washhouse, a stable, a coachhouse, and the slave quarters made up the demesne [estate]."

Plantation life was of such a nature that, as King wrote: "Ann Mercer's descendants in upper New York still tell that until she went North in her late thirties she had never made her own bed."

A Walker descendant in Illinois recently recalled this family anecdote: "The Mercer girls wore magnificent Southern-belle taffeta dresses, but Harriet had to give them away before they moved to Illinois because of no room in the wagon."

Willard King, the Davis biographer, wrote that by the time the future judge left Maryland he "was imbued with two ideas that were to guide his thinking in later life: he deplored slavery and he loathed Abolitionists."

The U.S. Census has no evidence of any slave ownership in Illinois by the Walker or Davis families.


---

Degrees of separation - Walkers were kin to man who helped put Lincoln in the White House
(Initially published in the Illinois Times newspaper, Springfield, Illinois 2007)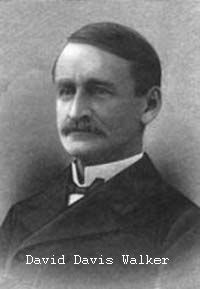 By Roger Hughes (APRIL 5, 2007)

The Bush side of the presidents' family receives nearly all of the attention from historians; the Walker side, by comparison, is almost anonymous to history.

But the mostly forgotten Walkers of central Illinois merit consideration if the heritage of the two-presidents Bush is to be more comprehensively assessed.

George E. and Harriet Walker, direct-line ancestors of two presidents, had a large family — eight sons and two daughters.

Seven sons were born in Maryland plantation country, before the down-on-their-luck Walkers lost their land at Cecil County, pioneered to central Illinois, and settled on a 64-acre farmstead at Blooming Grove in McLean County, a few miles southeast of Bloomington.

Three sons died in Maryland, early in childhood.

The surviving sons traveled west with their parents in the fall of 1838:


• John Mercer Walker, the firstborn, served in the Mexican War at Santa Fe. Soon after, he caught "gold fever" and went overland to California in 1849. His first cousin, Circuit Judge David Davis of Bloomington, helped stake his adventure.
John stayed in the Sacramento Valley and farmed 160 acres in Yolo County for more than two decades before returning to Illinois to manage a Davis farm near Maroa. He retired sometime around 1883 and lived with the Davis family in their Clover Lawn mansion at Bloomington until he died in 1888, at age 65.

• Thomas S. Walker died in 1845, at age 19. Nothing else is known about him, except that he is buried in the pioneer Woodlawn (Rhodes) Cemetery in rural Bloomington Township.

• George W. Walker married Mary Lilly and farmed for the rest of his life near other Lilly family members in Tazewell County's Mackinaw Township. They had five children and also reared a son of a Walker brother who died tragically in an 1876 farm accident.
Mary's parents built and operated the Lilly Inn, where lawyers such as Abraham Lincoln sometimes stopped in when Davis was holding court in Tazewell County.
Letters in the David Davis Papers — archived at various locations, including Springfield — affirm that George lived and worked for extended periods at the David and Sarah Davis home in Bloomington while growing up.
Family members relate that George often took care of the Davis horses. He was being paid about $12 a month by Davis in 1852. George occasionally drove the judge's carriage when Davis was riding his judicial circuit. According to family lore, Lincoln is believed to have ridden along with them at least once — and maybe more often.
George died in 1896, at age 63.

• Edward S. "Ned" Walker also was regularly found at the Davis home in Bloomington during the 1840s and 1850s, the same years in which Lincoln would drop by to visit the judge.
Ned returned from Civil War service in the spring of 1865, several months after the death of his father, and took charge of the family farm at Blooming Grove. He married Sarah Bay of Bloomington. His mother Harriet lived with them until her death, in 1869.
Ned died in 1876, at age 40, when he accidentally fell to his death in a farm well. Sarah and her three young children soon left the farm that had been in the Walker family for about four decades.


Three children were added to the family after the move to McLean County:

• David Davis Walker was born in 1840.

Letters in the David Davis Papers show that with the assistance — and at the insistence — of the judge, D.D. Walker attended the Beloit College preparatory school in Wisconsin for two years.
Young Walker then journeyed to St. Louis in 1857, soon after his schooling, for employment as a clerk in the wholesale dry-goods firm of Crow, McCreery & Co. Wayman Crow founded the business in 1835. He was a longtime friend of Davis and partnered with the judge in various land transactions across the Midwest.
D.D. Walker quickly learned the dry-goods business. He had his own company by the 1880s and was living exceptionally well — though sometimes in poor health — in St. Louis. Around the turn of the century, his six children were marrying into some of the most influential St. Louis families, such as Lambert, Filley, Papin and Wear. He and wife Martha had a summer home at Kennebunkport, Maine, and a winter home at Santa Barbara, Calif. Later, in 1921, granddaughter Dorothy Walker — a daughter of George Herbert and Lucretia (Wear) Walker — married Prescott Sheldon Bush. Bush was elected to the U.S. Senate from Connecticut in 1952 and served two terms. Former President George Herbert Walker Bush is one of his sons. President George Walker Bush and former Florida Gov. Jeb Bush are two of his grandsons. D.D. Walker died at Kennebunkport in 1918, at age 78.


• Rosetta Walker had 10 children with husband Thomas LeRoy Ijams. They farmed in the LeRoy area in DeWitt County. She died in 1919, at age 77. Like her siblings, Rose sometimes lived away from the family farm during her younger years, helping out at the always-busy Davis family home at Bloomington.

• Sarah Davis Walker began occasionally living with the Davis family as early as 1853, when she was about 8 years old.

Sarah married Samuel Raley in the mid-1860s. They farmed and had four children. The Raleys first lived in Illinois, near LeRoy, then in Kansas, Missouri, and Texas. Sarah died in 1915, probably in Wharton County, Texas, at age 70.
Even after his death, on June 26, 1886, Judge David Davis continued to assist the less successful of his Walker cousins — just as he had regularly helped them and their parents across earlier decades of the 19th century.
Decatur's Daily Review newspaper reported on Aug. 4, 1886, that the will of the late circuit judge, Supreme Court justice and U.S. senator had been "offered for probate" and that it included "comfortable support for his poor relations. . . . "
Among the "poor relations" were all but two — D.D. and George W. — of his Walker cousins.
He provided lifetime annual legacies for some of them and one-time bequests for others. Also, he gave "my horse 'Whoodlebug' and my Washington buggy" to John Mercer Walker.
Shortly before the judge died, D.D. Walker visited Clover Lawn to pay respects to a first cousin who had, about three decades earlier, helped put Lincoln in the White House even as he was also giving the young Walker a life-changing jump-start to future personal and family success.
Neither man knew that someday there would be two U.S. presidents in the family.




Roger Hughes, of Normal, has been gradually researching the mostly unknown early history (1700s to early 1900s) of the Walker family for more than three years. Hughes recently retired after a more than 35-year career in Illinois journalism with The Pantagraph, Bloomington; the Decatur Herald &.Review (as metro editor); Lindsay-Schaub Newspapers, Decatur; and the Southern Illinoisan, Carbondale. He received a master's degree from the Medill School of Journalism, Northwestern University. His e-mail address: [email protected] .

The following links are provided by Roger Hughes:

-- The Alice Davis Cates genea website at RootsWeb WorldConnect . Alice, now deceased, was a direct-line descendant of Judge David Davis. It is my understanding (and experience) that her findings might be the best available, and most accurate, on the Davis-Mercer-Walker-and-related lines. Without fail, her findings always appear to stand up to close scrutiny.

-- The David Davis Mansion , which is in Bloomington. There also are some excellent links from this site, including to the boffo Lincoln Library and Museum at Springfield and to a number of other useful Lincoln-related sites.

-- "The Ward and Associated Families of Sassafras Neck, Cecil County, Maryland ," site of Ellen Ward, which includes a helpful look at various homes/plantations -- such as The Rounds -- plus history and some genealogy

-- Roger Hughes Online Genealogy Database

-- George W. Bush's Great-Great-Great-Great-Grandfather Was a Slave Trader (Added 11/7/2015)